The 

Only

Guide Designed Specifically for Senior Golfers Who Want to Improve Balance, Stability, Strength and Drive Distance
If you want to take 10 years off your swing starting today so you can continue playing the game you have loved for so many years...here's how...
A complete and comprehensive guide to help you feel energetic, play injury free and regain some of that lost distance you have sacrificed over the years.
You don't have to belong to a gym or even have equipment.

You can do everything in the comfort of your own home.

Designed for all senior golfers.

These simple exercises and stretches work for all ages and will help you improve balance and strength among other things.

Promotes an injury free body and effortless swing.

An effortless swing comes from freeing your body from the tightness in your hips, shoulders and back. Now you can swing freely again.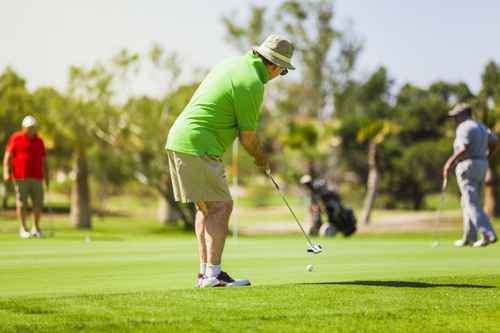 Don Handicap 16
"I was surprised at how easy the balance exercises seemed, yet how challenging they were. Within a week my balance was better in my swing ."
In this Senior Golf Mastery Book, You Will Discover:
Simple Exercises to Improve Balance
When you are off balance your whole swing suffers. You will get to use some simple self tests to evaluate your balance and also find some simple exercises and drills to restore it.
Simple Stretches to Restore Flexibility
Regaining mobility and flexibility in the critical areas like your hips, shoulder and spine are going to change your game and lower your handicap. You will learn which stretches to do and what not to do based on your current limitations.
Best Ways to Build Strength
If you want to increase your distance, you need strength. That means lower body strength, upper body strength and core strength. It's not too late. You will learn some very basic exercises to keep you strong for golf...for a lifetime of golf.
Easy Ways to Build Stamina and Endurance
Do you find yourself getting tired and frustrated with lack of endurance and stamina? Age and experience can be an asset on the course. Wouldn't it be nice to get some energy back? It's time you feel better and last longer.
What Golfer's Are Saying

Jim H. Handicap 12
"It's not easy losing distance as you age. Just ask any golfer who's been playing awhile. I have added about 15 yards of distance back."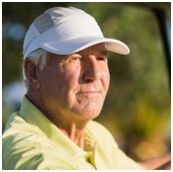 Jeff M. Handicap 22
"I feel a lot better and I have more energy through 18 holes. That alone was worth it for me."
Your Can Get Started Today with
Fast and Easy Digital Delivery
Exercises and stretches designed specifically for senior golfers who want to play their best golf at any age!
​

Buy it now for just

​

$37
Senior Golf Fitness ...today only
​

100% MONEY BACK GUARANTEE
This is for the golfer who is a little skeptical about his or her purchases on the internet. Is it safe? Will it work for me? What if I don't play better golf?
Don't worry. We have you covered no matter how you feel with this unconditional money back guarantee. You have 30 days to use the senior golf program. Watch your handicap drop and your scores lower!
Still not satisfied? No worries. Just email and let us know and the refund is yours with no hassles whatsoever.
Golf is deceptively simple and endlessly complicated; it satisfies the soul and frustrates the intellect. It is at the same time rewarding and maddening - and it is without a doubt the greatest game mankind has ever invented. -Arnold Palmer