Your Best Drives
EVER

Start Today...
How to Crush Your Drives Out of Sight and Become the Dominant Driver in Your Foursome
Enter your text here...
At the 2017 Master's golf tournament, all eyes were on the ceremonial first drive between the ultimate golf legends, Gary Player and Jack Nicklaus. They didn't need to compare trophies or past records of achievements. That is already in the history books.
Today....something much more important was at stake...
Gary Player at the age of 81 was the first to step up to the tee. After a moving and tearful tribute to Arnold Palmer, he quickly shifted all of his attention to the shot in front of him. You should have seen the look of sheer determination and concentration on his face.
His drive popped up slightly and found a spot on the fairway to the right.
Jack was up next.
At the age of 77, Jack looked more relaxed in his demeanor, yet you could still sense his desire to outdrive his long time friend and golf competitor. He launched a beautiful shot just off center...and a few yards further.
Gary immediately shouted 'it's a tie' so the gallery could hear. You should have seen Jack's face of disbelief that it could have been a tie.
Jack later declared on his Facebook page, 'It's not important, but I must have also found a little extra as I might have nipped Gary.'
What is it about THAT drive off the tee that is so totally satisfying when you hit it past every golfer in your foursome?
Y
our Drive Off the Tee ALWAYS MATTERS...
You may have launched hundreds of shots, thousands of shots, or even, tens of thousands of shots off the tee over the years, but what shot off the tee matters the most?
You guessed it...the next shot in front of you right here, right now.
If you are a low handicap golfer, you know exactly how much work it was to get there and hitting it long off the tee is only one component of a long list of reasons why you shoot low scores.
Yet...you still can't shake the desire to be the longest hitter off the tee. It is the ONE thing all golfers have in common.
Who
is this for....
You are tired of spending countless hours on how to improve your drive distance
You are frustrated and embarrassed with your performance off the tee
You want to outdrive your playing partners every time you play regardless of the course
You want an innovative and up to date program to follow which reveals the powerful connection between your body and your drive distance
You want to play longer courses but lack the confidence in your ability to carry hazards and get a respectable score on longer holes
Tired
of Being the Short Hitter Off the Tee? Here's What to Do Next...
There is a good chance you have everything you need to be successful already. You watch other golfers who are half your age and nowhere near your skill level and yet they are launching it further than you do. You are left scratching your head and saying 'what the heck is going on here?'h
​It's not your fault.
You are probably missing just one or two small key elements. It's so frustrating when the answer is staring you right in the face, yet you can't see it.
The most successful golfers who are proud of their distance off the tee follow a simple system. A system that you've never had access to...until now.
Remember that you already have a GREAT DRIVE within you. You just need to learn how to store up more power within the body you have and learn the simple techniques to quickly release it.
Are you ready to meet the step by step solution that will allow you to finally unleash all of that stored power from within you?
---
Introducing Long Drive Secrets
Crush It Now and Get More Distance...
Step by Step Drills, Exercises and Techniques are Revealed in One Easy to Follow Handbook!
When it comes to distance training, what will be covered?
Fast Techniques to Improve Club Head Speed
Learn how to create lag, clear your hips and engage your core for maximum speed.


Simple Drills to Improve Movement Patterns
Follow simple drills to improve your efficiency of movement, hip speed and body motion.
'Anyone Can Do'
Exercises to
Train Your Hips for Speed
Learn specific exercises to generate swing speed and improve hip, shoulder and spine mobility.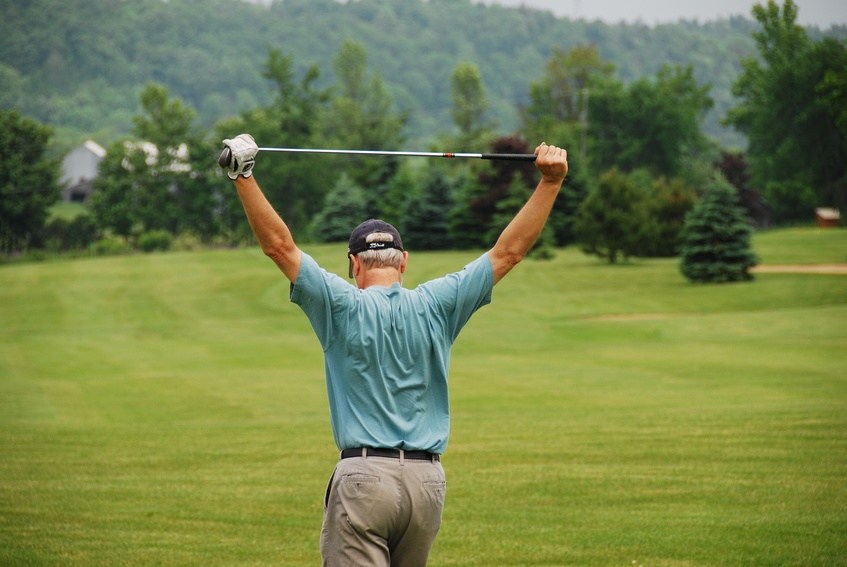 Simple Ways to
Maximize Flexibility
Locked joints will prevent you from getting in the optimal power positions. Find out how to unlock tight areas.
Best Strategies to Use for Overspeed Training
Integrate the latest techniques in overspeed training to generate maximum power and force in your drives.
Proven Methods to Optimize Tempo and Timing
Velocity and specificity are the keys to optimizing tempo and timing. Find out how to improve both with specific exercises, drills and techniques.
​
Get instant access to LONG DRIVE SECRETS now!
This is an instantly downloadable handbook of techniques, drills, exercises and stretches designed to improve swing speed and drive distance. Get it Today!
Only $34 ​...now just $24!
After Following the Long Drive Secrets Program...
You will feel more confident in your drives. It doesn't matter who you are playing against, what course you are playing or who's handicap is lower. You will restore your confidence in your ability to blast it off the tee and feel proud of your driving ability again.
You will fully understand how to generate power, swing speed and maintain control. Once you know how to generate full power from the body you have, you can turn it on and off as you choose. You want to pull off a drive or another big hit from the fairway? No problem. You now have the ability to move from power to finesse to strategy to control. It's just one more shot in your arsenal of weapons you can access when you're ready.
You will never be the short hitter again . Your drives will be crisp, clean and solid from this day forward. You will have a stronger, more efficient golf swing that will allow you to outdrive your playing partners on each and every hole. No more frustration or embarrassment off the tee.
...allows him to unleash tremendous power on the golf ball
---
"His flexibility and athleticism allow him to use a strong, fast unwind as he approaches the impact position. That allows him to unleash tremendous power on the golf ball. Butch Harmon (regarding Dustin' Johnson's effortless power)."
Butch Harmon (regarding Dustin Johnson's swing)
...I'll take a guy with flexibility and a good golf swing
---
"I'll take a guy with flexibility and a good golf swing," he said, "over a guy who is as strong as a moose." -Long Drive Winner Jamie Sadlowski
Jaime Sadlowski, 200+ mph ball speed
---
Try It Out 100% Risk-FREE for 30 DAYS!
"If it doesn't work for you, you shouldn't have to pay for it." That is really the most honest and fair offer we can extend to you. Download the Long Drive Secrets program and immediately begin using the drills, exercises and techniques that are designed to help you blast your drives past your playing partners-once and for all. If this does not happen (and we are more than confident it will), then simply send us an email within 30 days of purchase and you will be refunded with our friendly, prompt and no hassle 100% money back guarantee.
...I'm driving the ball 300+ yards
---
"Your program has delivered awesome results. I'm driving the ball 300+ yards; flying the ball 280+ in 60 degree weather. Game is consistent and long and accurate. Who could ask for more?
Get instant access to our LONG DRIVE SECRETS now!
Start crushing your drives after immediately accessing the secrets to consistent long drives off every tee. Once you click 'buy now', you will gain access to our simple system which you can download right away and get started.
Only $34...now just $24
Are you ready to transform your game by becoming a long drive master? Just 10 minutes a day and you'll be the new leader in your foursome. Isn't it time you unleashed your long drive greatness? Take ACTION!