Golf Practice Routines:

The Ultimate Guide on the Best Way to Practice for Golf
A complete and comprehensive guide to help you take your practice on the range to success on the course...
It is not necessary to hit a lot of balls to produce your best swing.

Your best swing comes from knowing exactly what to practice and when.

High handicap golfers should practice different than low handicap golfers.

This guide lays out the exact practice schedule (to the minute) of how much time to practice on each segment of the game including a breakdown by the level of player.

There is a secret to setting practice goals.

Just because you practice at the range doesn't mean you will play better on the course. This guide shares the secrets to getting the most out of your practice and how to translate it to lower scores!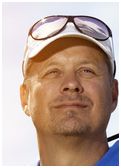 Shawn Cox Handicap 16
"I have never seen a book like this anywhere in golf that actually outlines exactly what you need to do in a practice session, then have it set up by day and time. I also really liked the pro practice schedules so I had something to try and shoot for in the future."
In the Simple Practice Schedules Book, You Will Discover:
Exactly What to Practice
Just because you know every club in your bag doesn't mean you know how to use each one to your advantage. So which ones should you practice with? What kinds of shots should you practice more of? The answer is in this book!
How to Set Practice Goals for Yourself
Did you know there is a 4 step process when it comes to setting practice goals? Why doesn't anyone teach them? No worries. You will see how to set your own goals depending on your current handicap and your next big golf goal.
How Long to Practice
If you had an extra 15 minutes to spare, what should you work on? How about an extra 30 minutes? An Hour? A couple of hours per week? This book will outline how long you should practice each session, each day and each week.
Exact Pro Practice Routines
It's very inspiring to see the exact workout schedules of the pros. You will see a full week schedule for a touring pro as well as many pre round tournament routines and who uses them! You may not have the same time availability as the top player's but you can sure follow their pre round routine.
What Golfer's Are Saying

Mary Canton , Handicap 28
"If I believe in something then it is easy to work hard. This book really helped me put all that practice together so I knew what to do and when."

Jay Scott, Handicap 22
"These practice sessions worked for me and it was a heck of a lot better than what I normally do."
Take Advantage of this Special Offer
Normally $37. Today just $27 as part of the Wake Up Golf Series Offer.
How much would you expect to pay for a program that delivers advice and information that quite literally could have you playing better than ever before?
Today it's just $27...only if you act now
Why Wait? Get the book now and start practicing today

:
100% MONEY BACK GUARANTEE
This is for the golfer who is a little skeptical about his or her purchases on the internet. Is it safe? Will it work for me? What if I don't play better golf?
Don't worry. We have you covered no matter how you feel with this unconditional money back guarantee. You have 30 days to use the practice schedules and strategies. Watch your handicap drop and your scores lower!
Still not satisfied? No worries. Just email and let us know and the refund is yours with no hassles whatsoever.
Golf is deceptively simple and endlessly complicated; it satisfies the soul and frustrates the intellect. It is at the same time rewarding and maddening - and it is without a doubt the greatest game mankind has ever invented. -Arnold Palmer